Hamilton Community Food Centre
About Us
Hamilton Community Food Centre (HCFC), a project of Neighbour to Neighbour Centre (N2N), is a welcoming and safe community space offering food-based programs that bring everyone together to grow, cook, share, and advocate for good food.
Hamilton Community Food Centre is a partner site of Community Food Centres Canada, which provides resources and a proven approach to partner organizations across Canada to create Community Food Centres that bring people together to grow, cook, share, and advocate for good food. CFCC also works with the broader food movement to build greater capacity for impact and to empower communities to work toward a healthy and fair food system.
HAMILTON COMMUNITY FOOD CENTRE
LOCATION:
310 Limeridge Rd W Unit #10
HOURS:
Monday to Wednesday – 9:30 AM – 4:30 PM
Thursday – 9:30 AM – 6:00 PM
Friday – 9:30 AM – 4:00 PM
Saturday – 10:30 AM- 12:30 PM
Programs & Events
We welcome everyone to be a part of our community. We have many different community programs including meals, gardens, kitchens and action programs! 
Program schedules will be posted and updated here regulary.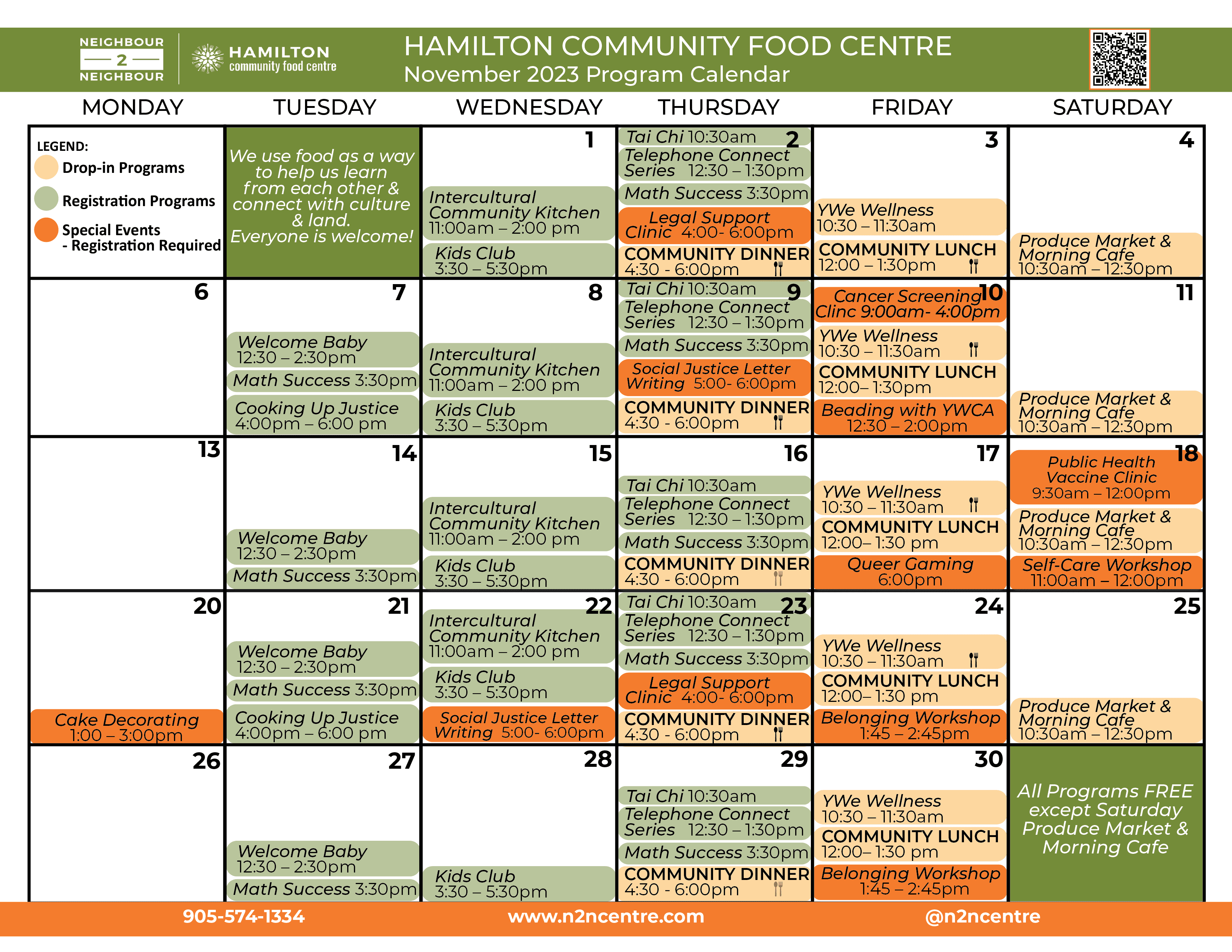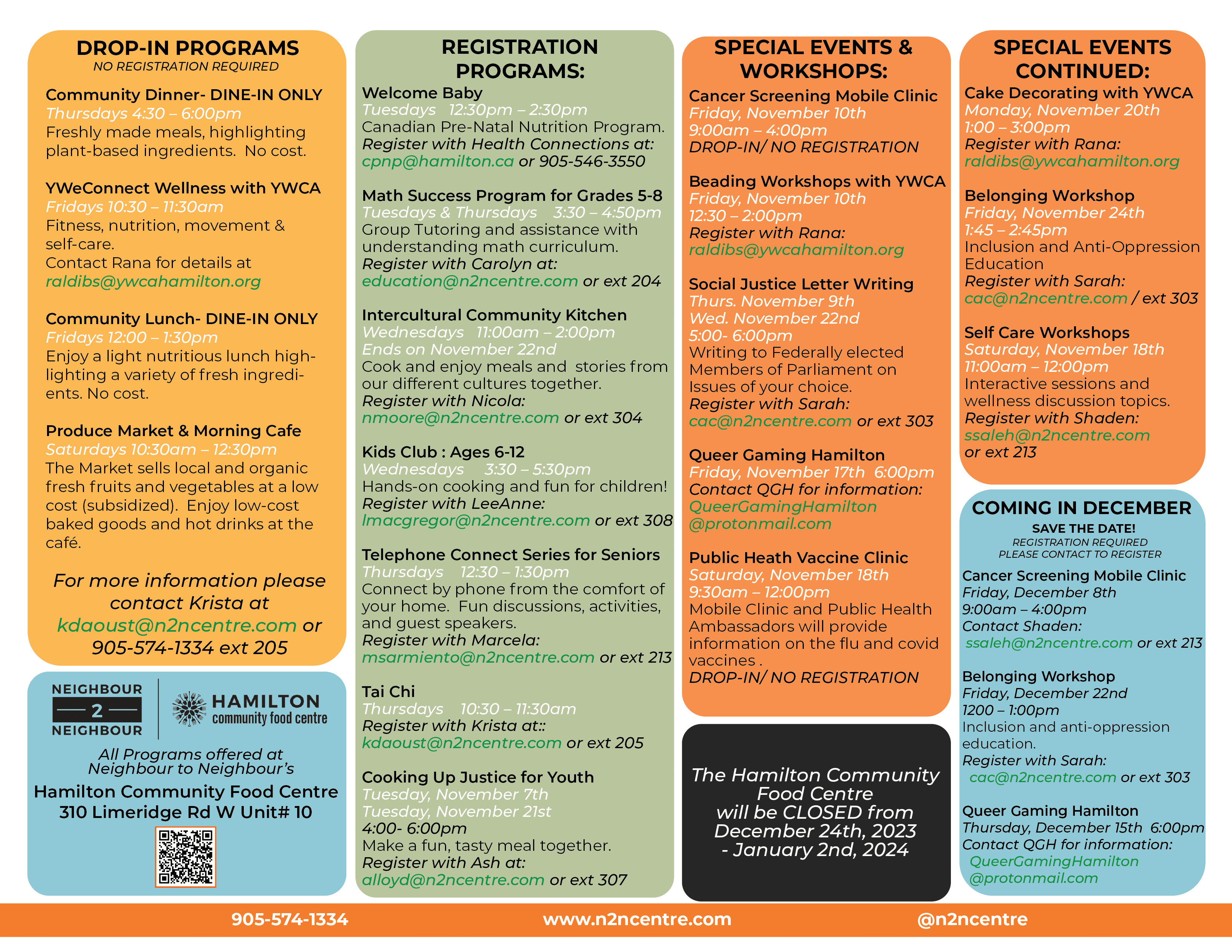 DROP-IN PROGRAMS
(No Registration Required)
Community Garden- CLOSED FOR THE SEASON
Community Dinner- DINE-IN ONLY
Thursdays 4:30 – 6:00pm
Freshly made meals, highlighting plant-based ingredients.
No cost.
YWeConnect Wellness with YWCA
Fridays 10:30 – 11:30am
Fitness, nutrition, movement & self-care.
Contact Rana for details at
raldibs@ywcahamilton.org
Community Lunch- DINE-IN ONLY
Fridays 12:00 – 1:30pm
Enjoy a light nutritious lunch highlighting a variety of fresh ingredients. No cost.
Produce Market & Morning Cafe
Saturdays 10:30am – 12:30pm
The Market sells local and organic fresh fruits and vegetables at a low cost (subsidized).  Enjoy low-cost baked goods and hot drinks at the café.
For more information please contact Krista at kdaoust@n2ncentre.com or 905-574-1334 ext 205
REGISTRATION PROGRAMS
(Registration Required)
Welcome Baby
Tuesdays 12:30pm – 2:30pm
Canadian Pre-Natal Nutrition Program.
Register with Health Connections at: cpnp@hamilton.ca or 905-546-3550
Intercultural Community Kitchen
Wednesdays 11:00am – 2:00pm
Finishes November 22.
Cook and enjoy a meal together.  Share food stories from our different cultures.
Register with Nicola:
nmoore@n2ncentre.com or ext 304 
Telephone Connect Series
for Seniors
Thursdays 12:30 – 1:30pm
Connect by phone from the comfort of your home. Fun discussions, garden/ meal prep activities, guest speakers and more.
Register with Marcela:
msarmiento@n2ncentre.com or ext 213
Cooking up Justice for Youth
Ages 13- 18
See Calendar for Dates
Make a tasty meal together, have fun! Register with Ash:
alloyd@n2ncentre.com or ext 307 
Kids Club : Ages 6-12
Wednesdays 3:30 – 5:30pm
Hands-on fun for children! Cooking, growing food and playing in nature.
Register with LeeAnne: 
lmacgregor@n2ncentre.com or ext 308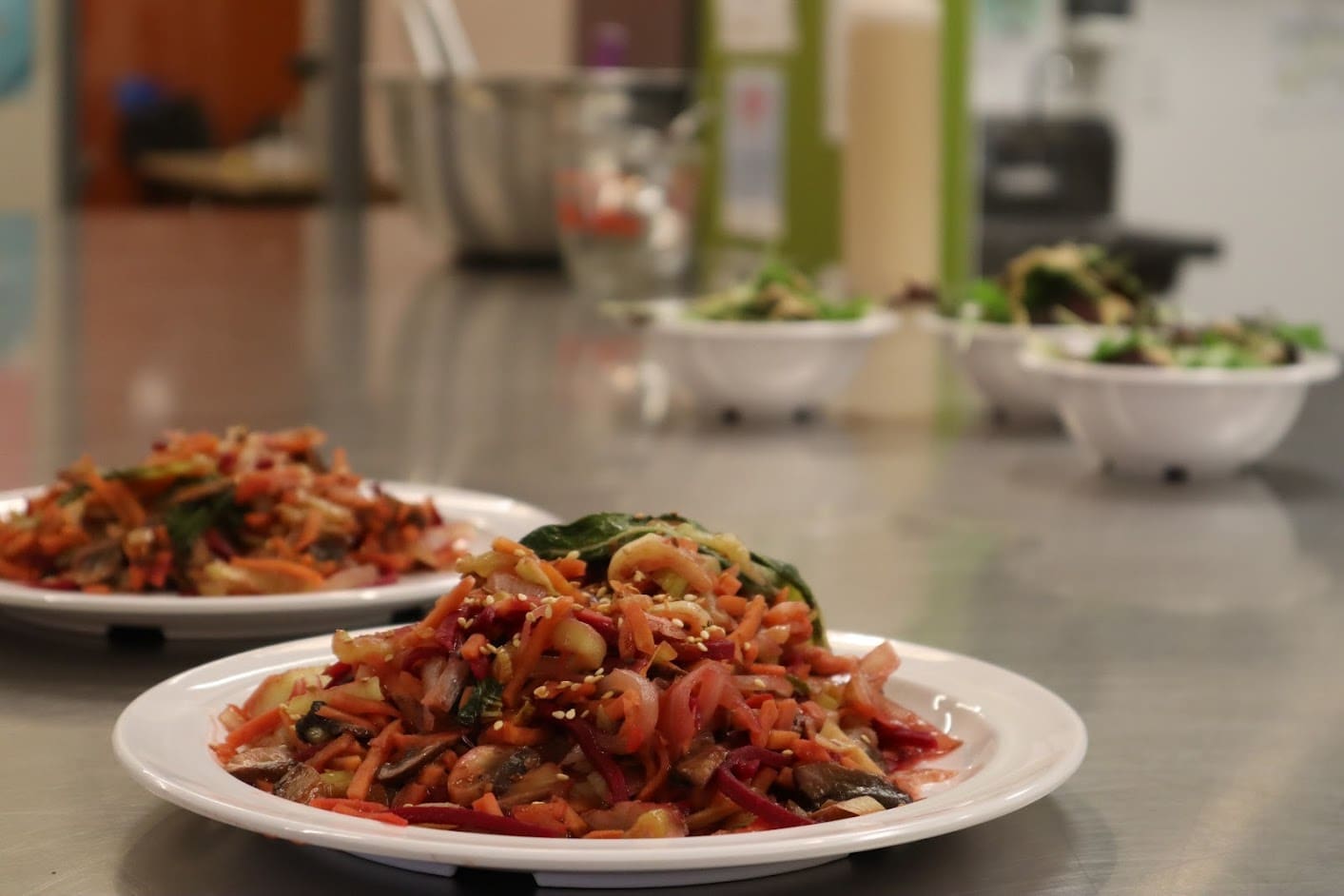 Read our 2022 Community Impact Summary (Click to open)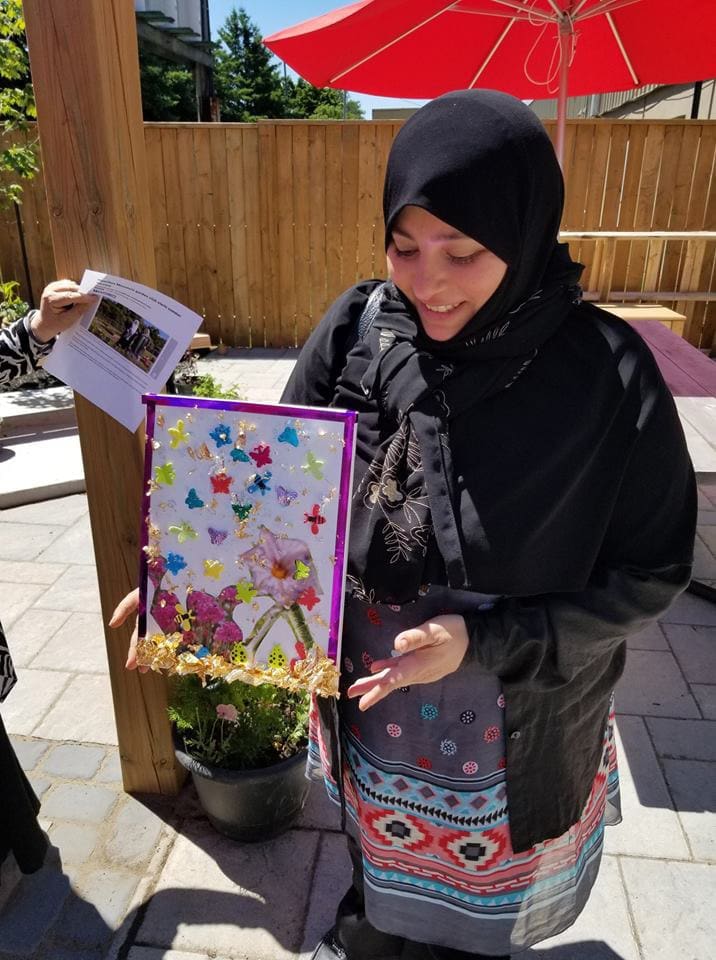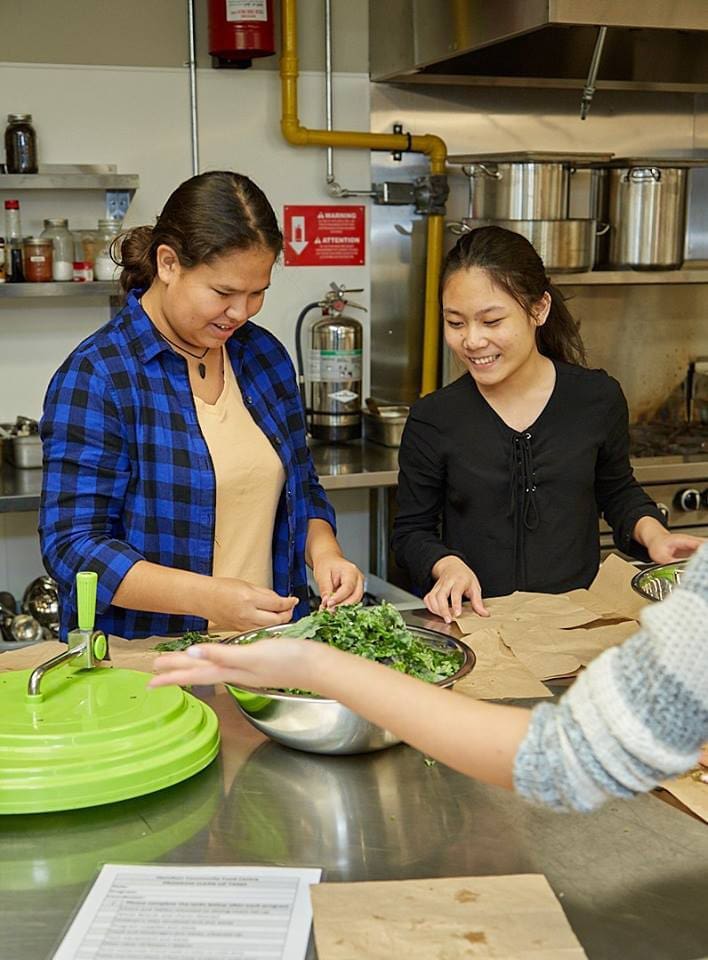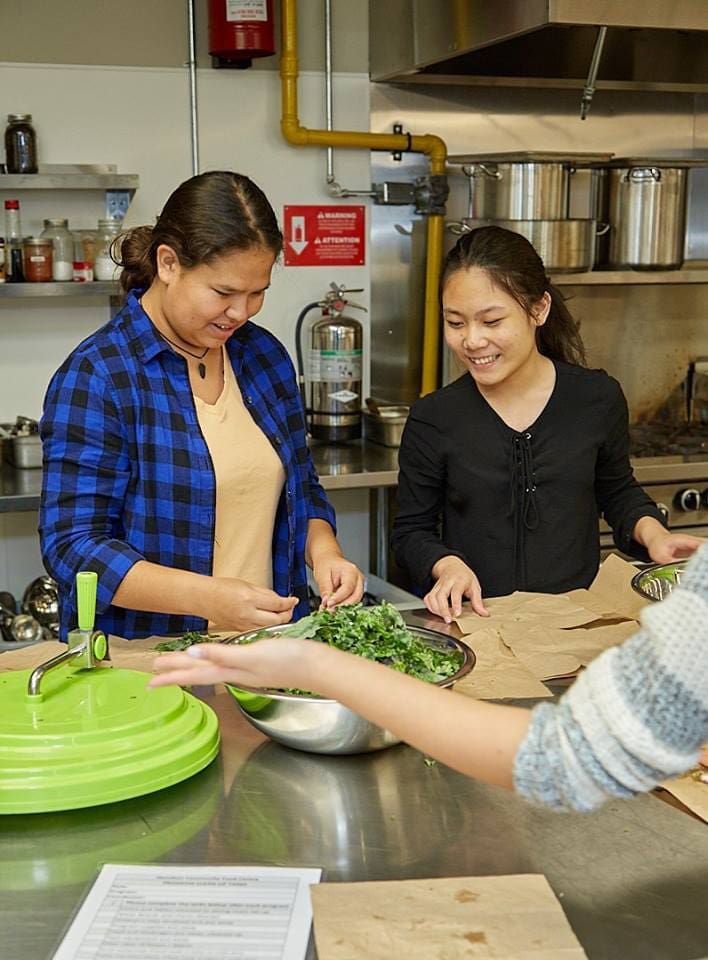 Lead our community to an improved quality of life.
Integrity, Leadership, Inclusivity
Sign up for our E-Newsletter and stay up to date with the Community Food Centre!
310 Limeridge Rd W, Unit 10
For the Hamilton Community Food Centre, please visit our 310 Limeridge Rd. W. location.